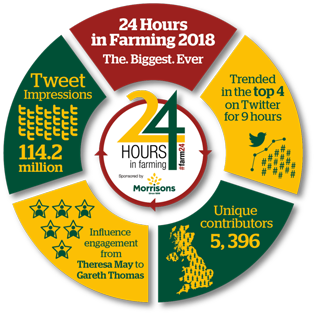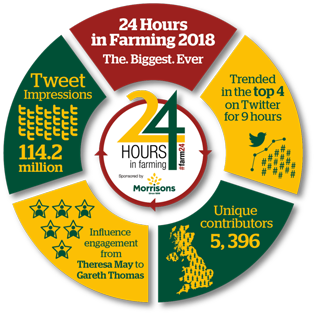 24 Hours in Farming
An annual 24-hour virtual campaign, supported by Morrsions, harnessing the whole farming community and working across all media platforms.
The campaign aims to show the world what UK farmers do over the course of a normal day. With a four-month lead-in time, its success relies on our ability to ensure UK farmers engage; and they do, each year there are more than 5,000 posts on Twitter and other social media platforms throughout the 24 hours.
Now in its 4th year, #Farm24 has trended in the top five on Twitter for the majority of the day for each event and this year, 24 Hours in Farming was seen more than 1.4 million times on Twitter alone. In addition, receives a high level of wider media coverage with Farmers Guardian staff giving radio and television interviews, for regional, national and international media throughout the day.
The campaign reach delivers a total audience of more 99, 000,000 annually.
Agri-Innovation Den
Agri-Innovation Den is a truly multi-media initiative spanning a total of eight months. First launched in 2015, it is run by AgriBrieifing in conjunction with BASF, and is essentially a competition which offers fledgling entrepreneurs and agricultural innovators the chance to boost their businesses to the next level by winning a £5,000 marketing package, expert business and marketing advice and the chance to access investor funding.
Agricultural entrepreneurs are encouraged to enter over a highly-publicised entry period and shortlisted entries are then invited to pitch to a panel of farming experts in a Dragon's Den-style interview. The whole competition is followed in print through Farmers Guardian, online and through social media, as well as been promoted to the wider public.
Latest stats: Editorial coverage and multi-platform marketing activities ensured a total of 126,181 farmers were reached through Farmers Guardian, Arable Farming and Dairy Farmer; 356,000 tweet impressions were delivered and four films produced to support the competition, received more than 1,000 views.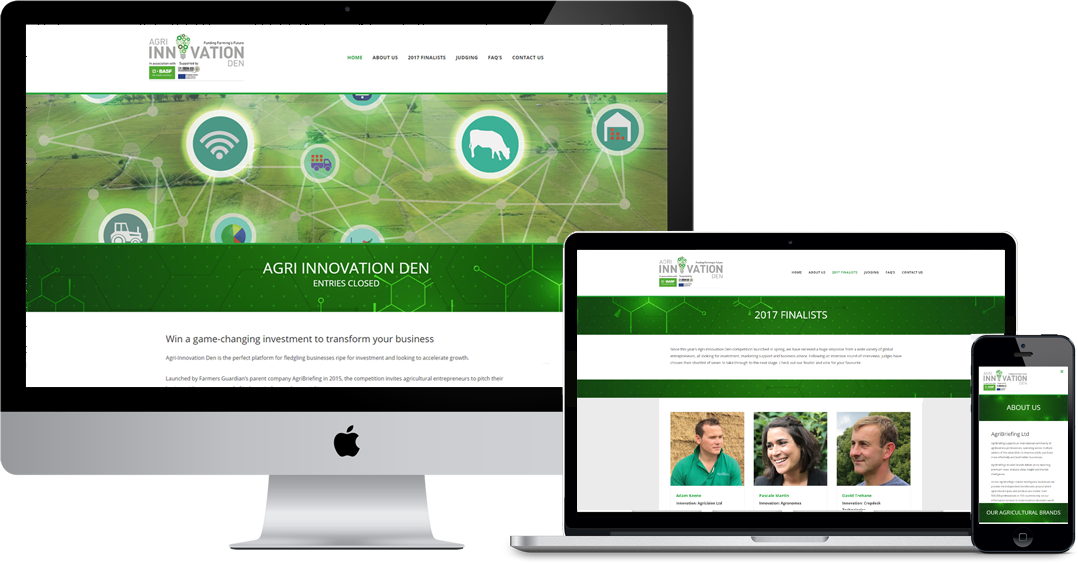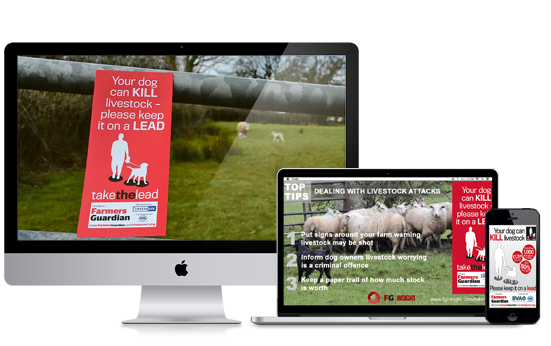 Take the Lead

Take the Lead is an industry campaign spearheaded by Farmers Guardian, working with commercial and industry partners. It aims to raise awareness among the British public about livestock worrying and speak up for the farming industry's concerns.
As well as being partners including: the National Sheep Association, the British Veterinary Association and The Original Muck Boots Co., the campaign has been backed by leading rural organisations including: Countryside Alliance, RSPCA, Women's Food and Farming Union, Farmers Union of Wales and the National Animal Welfare Trust.
It formed part of a Westminster public policy debate on dangerous dogs in January 2016 and as well as having extensive coverage across our own brands, the campaign has been covered in Countryside Alliance magazine, Dogs Monthly, Dogs Today and Countryfile magazine as well as on various BBC local radio and television stations and the Radio 2 Jeremy Vine Show. Farmers Guardian staff have also been asked to speak about Take the Lead at various events, including NSA Welsh Sheep and Just Dogs Live.
Take the Lead content regularly generates exceptional engagement levels, with one story alone receiving almost 53,000 views and thousands of shares.